What is PDFeXPLODE?

PDF-eXPLODE is a time-saving tool for people who mail or e-mail large batches of reports such as invoices, statements, purchase orders and operational reports. It is a special Windows printer that diverts print output to e-mail, working seamlessly with your existing applications. It's so easy to use, you will see results within minutes of installing it!

Why use PDFeXPLODE?
1.Automate high-volume document delivery to customers, vendors, employees and prospects.
2.Batch e-mail invoices, statements, letters and more.
3.Deliver personalized documents securely and reliably.
How does PDFeXPLODE work?
PDF-eXPLODE turns paper and electronic documents - invoices, statements and other reports and correspondence - into secure e-mails that are sent to customers all at once. Instead of printing, sorting, stuffing and mailing stacks of paper, or e-mailing documents one-by-one, PDF-eXPLODE uses the computer to do the work.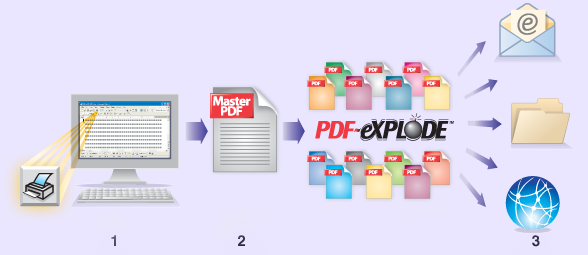 1. Print With the click of your printer button, PDF-eXPLODE takes a report or a word or mail merge document and, instead of printing it, converts it to a master PDF document.
2. Explode Next, PDF-eXPLODE "explodes" (i.e. bursts or splits) the master PDF into individual PDF attachments based on hidden e-mail tags in the original document
3. Deliver Then PDF-eXPLODE distributes each individual PDF either via e-mail, a shared drive on your local area network or FTP (available soon) to the designated recipients
Features of PDFeXPLODE
Can use with text documents or data-driven reports, seamlessly fitting into your business workflow. PDF-eXPLODE works directly with R&R along with most business applications, including Microsoft Access and Microsoft Word
Works by reading "tags" easily included in the page header at the start of each section within a document or a report to indicate the e-mail address where the PDF attachment should be sent and the subject/message that should be used
Preserves the professional appearance of your original documents so the electronic and paper versions look identical. Creates files in Adobe PDF (Portable Document Format).
New Features added in Version 2

Mail merge, cover pages and dynamic file naming.
Multiple output destinations, powerful email addressing and more email options including quick mail.
Enhanced security and password protection.
New Features added in Version 3

New server editions provide enhanced power and scalability allowing multiple users to share a single instance of PDF-eXPLODE.
HTML format email messages, FAX server support.
Send email using your choice Outlook (MAPI) or SMTP server.
Do more with variables and cover sheets.
New utilities to batch processes and combine and view PDF's.
New easier to navigate user interface
Version 3 System requirements

PDFeXPLODE Version 3 has the following hardware and software requirements
Operating System: Microsoft® Windows XP, Windows 2000, Windows Server 2003, Windows Server 2008, Windows Vista™ or Windows 7

Memory: 64MB RAM

Disk space: 52.5MB plus extra space for saving files

Pricing and licensing

PDF-eXPLODE is a trademark of 3000AD Systems.